The traveling
The trip was an adventure and a half before it even started, haha. I missed the Pre-reg day and a good chunk of the Saturday because of a mishap with my friend's car… So, the good half of the first day of the convention was spent travelling. The good thing that came out of this was the fact that my friend and I were able to finish making a jacket for one of her cosplay during our stay over at my place before our bus trip down to Portland. Probably one of my most intense cosplay making session ever!
Anyways, the bus trip down to Portland from Vancouver can only be described in 2 words: too long.
9 hours (on 2 buses) could've taken me to the next continent over, I think. But we got to Portland in the end, so that's what matters. This was my first con in applying for press so I was excited to go around with a new camera I've acquired.
The layout
This year was different from Kumoricon'07 because the convention was held at Portland, Oregon instead of Vancouver, Washington. However, it was still held at a hotel so the layout wasn't entirely too different. The fact that everything was under one roof was very convenient. It was a bit difficult to find good places for photos, but that's always a problem with convention areas. Since the hotel couldn't possibly fit everyone under its roof, many congoers liked to congregate in the field on the other side of the street of the hotel.
Snapshot of the karaoke room where my friends and I spent time in:

The staff
I didn't come in contact with them as much as last year. However, the ones stationed in front of the Dealers room were very diligent. They asked everyone they couldn't see the passes of to put it around their neck, or flip it the other way so they can see it. I must commend them for actually sticking to it the whole weekend (at least it happened whenever I walked through the doors, haha). I'm not sure about the other areas, but Karaoke was very laxed. Which I felt was a good thing, because I quite like the relax feeling I get whenever I hang out at Kumoricon's karaoke lounge!
The food
Since the hotel was practically next to a shopping centre, there was never a fear for not being able to find food. I saw many congoers go to the food court of the shopping centre to feed their hunger. Some also went to nearby restaurants like Applebees. One time, my roommates and I tried ordering pizza to our room… But we're not sure what happened, it never came even after 2 hours. We gave them a call again and had them remake the order. So my advice to others for ordering pizza at a hotel convention: not such a good idea. More often than not, the order will either be late or lost.
The mall
The convention hotel (Doubletree Portland-Lloyd Center) was situated right beside the Lloyd Center Mall. My only impression of it was that it was really big. It even has a skating rink in it for crying out loud!
The hotel
Accommodations-wise, I stayed at the convention hotel with friends this time. It was quite convenient to just go up and down the elevator. Sometimes I just took the stairs because there were too many people. But yes, it was convenient. There weren't actually a lot of places to take pictures in though. It seemed a bit small I thought. It also rained a couple of times, so we were rarely outside in the park. A few others I know stayed at the Red Lion down the street. According to a friend of mine it was a short walk less than 5min since they found a shortcut through a parking lot.
The weather
The weather that weekend was pretty good for the most part. However, there was always a fear of rain because of the overcast. We did get rained (it was actually pouring buckets) on rather abruptly one time while we were outside. It was a mad dash for everyone to get under some cover from the rain. Fun times indeed!
The final word
This year Kumoricon left me with a different impression from 2007. I'm lucky enough that I didn't come into contact with some of the weird encounters some of my friends had… However, I was able to meet some new amazing people. That's always a good thing!
I leave you with this license plate I saw on my way back over the border: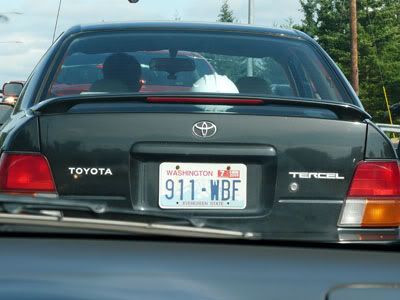 Share with your friends!