Travel / Weather / Accommodation
Travelling down to Sakuracon this year was no different than any other year. There wasn't much of a border wait as we crossed it, which was fortunate. The trip down was also fairly pleasant as well. The weather report claimed that it would rain during the weekend. But thankfully that only happened on Sunday, as everyone was preparing to leave.Площадки лестниц

*Proof of the good weather as we headed down to Seattle.
We stayed at The Camlin, a resort that's part of the WorldMark network in downtown Seattle. The Camlin is really close to the Convention Centre with it being only 1 block away. The room we got had 1 separate bedroom, a couch, and also another bed placed in the room outside. There was a microwave, and also another sink that's not inclusive of the full bathroom facilities. The room was really big and fit my roommates and I with all of our luggage fairly comfortably. The hotel also provided a communal kitchen on the first floor for the guests to use. This helped cut down our food expense, which we welcomed! Of course, it also meant we were able to make whatever we wanted to eat, however we wanted it. The down side to that is we had to be creative with whatever utensils and cooking equipment we can find, as those are not always there…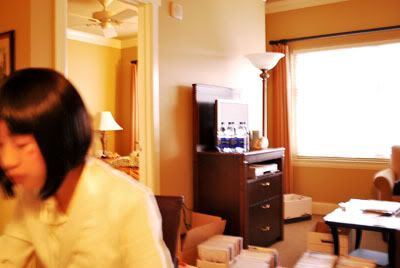 *Here's a picture looking into the bedroom.
Convention Grounds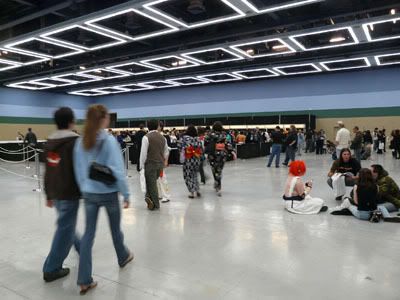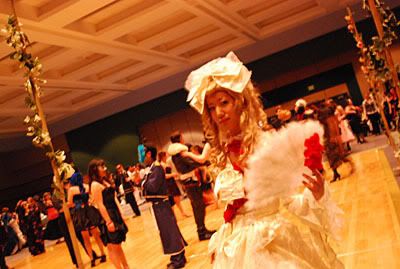 This year, the convention grounds expanded, and all congoers are able to wander more grounds than the year before!
The pre-reg "line" was located in a separate room of its own (as shown in the 1st picture) without having to disrupt the general traffic out in the open. It seemed the wait would be long, however, a friend came back and told me that there was hardly a wait at all! Kudos to the hardworking staff that minimized the wait!
On Friday night, someone started playing gameboy music on speakers and having a mini-rave outside the Convention Centre (as shown in the 2nd picture)… Some of us were worried that the police would come and shut that down since it was pretty loud and it's pretty obnoxious to the general public that is not part of the convention. Luckily, it dispersed shortly after and there didn't seem to be any big troubles.
The 3rd picture shows a glimpse of the ballroom on Friday night.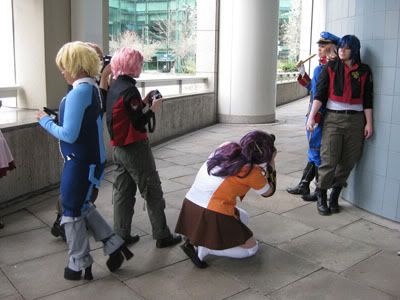 Karaoke room on Friday night. At the time it was Open Mic, but there didn't seem to be much attendees in the room. I can't blame them with other panels going on, and also the 24-hr gaming area! ..However, the only complaint I would make to the Karaoke room is not enough hit songs.. Perhaps adding a section of Jpop or even current/popular songs from current anime series/dramas would make the Karaoke list more appealing?
The exhibits in the Art Show this year were very inspirational. I particularly remembered some of the pieces were carved from wood! Nanase and Sheryl from Macross Frontier approves of them!
With the convention grounds opening up more areas, it also meant that fellow cosplayers and photographers were able to venture out to more places for photo opportunities! Pictured above is a Macross Frontier group doing their photoshoot.
The placement of the Artist Alley this year had its pros and cons. However, I think the pros might have outweighed the cons (although I have not heard directly from the artists themselves). AA this year were placed right in front of the entrance to Dealers Hall and also Registration. So almost EVERY attendee had to pass through AA in order to get to the mentioned 2 areas. This is good for the artists at AA because this means a LOT more traffic flow. It's also good for the attendees because some might be lazy in tracking down AA's location. Some first-timers may also not even realize the existence of AA! Therefore, the placement of AA this year was definitely a good choice. If we should count the cons, then it might be the traffic congestion during traffic peak times. This could be due to the location itself, or the number of increased attendees.
Thus, with the different allocations of popular "con attractions" the usual traffic jam witnessed in the prior years at the top of the escalators have been avoided this year! As seen in the picture above, that particular area is a lot more free of jams. This is also due to the diligent and tireless efforts of con staff, as well as Scon staff. There's always staff there reminding attendees to not stop and dawdle in that area, so as to not stop the traffic flow and create a jam in that section.
Scon Meme..?
Ever since the official 2009 commercial for Sakuracon launched this year, there seemed to be a HUGE interest in one particular character that appeared in the short clip. There are even a couple of parody videos uploaded onto YouTube based on the commercial. The picture below shows another cosplaying the star of the commercial:


Unfortunately for the star, he was unable to come to Sakuracon due to circumstances. He would have been flown to Scon as a guest, and it was a bit of a disappointment to find out that he was unable to make it to the con… but such is life~
The final word
This year even though I didn't go into many panels, I did try to peek into and visit as many areas of the convention as possible. Seeing as how the con grounds have expanded, this was indeed necessary. As opposed to the year beforehand, I limited myself to not attend as much cosplay meetups. The year before, I tired myself out greatly by attending to many meetups and ran around the con a lot. Therefore, this year I made it a goal of mine to limit myself to only a few meets and to remember to have actual meal times. Fellow congoers could attest to this, sometimes… you just forget to eat. For next year however, I think I shall try to score an interview with some of the attending guests. Y'know, try out something new every year!
As Sakuracon comes to an end for me, the weather finally decides to rain (even though the forecast says it'd rain all weekend). So that was a lucky thing for all attendees and especially cosplayers that weekend!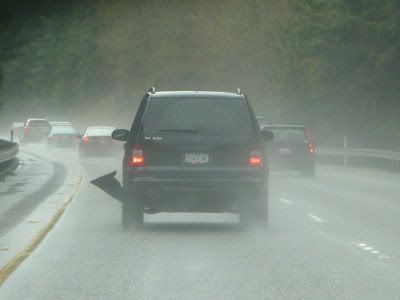 However, one must be careful of your vehicle's condition! We kept staring at this car in front of us on the highway with some part of it flapping in the wind. We were afraid it'd come right off and smash into us, but at that point, there wasn't much the driver could do but move forward until the next rest point… So! Always remember to inspect your vehicle's condition before you hit that highway!
Share with your friends!