This was my first year at the newly established Aki-con. It was its second year and it seemed very promising for a convention that is just starting out.достоинства и недостатки пластиковых и деревянных окон
Travel and Location
As the convention was held in Everett, WA, it was even closer to me than Sakura-con that was held at Seattle, WA. The drive down was short and sweet.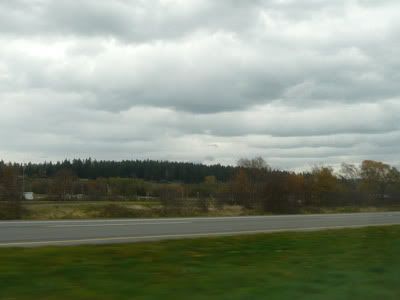 But the clouds were hovering over us since the weekend's forecast weren't that great.
We didn't have any problems getting to Everett. But it was still an adventure to locate the hotel since we never went into Everett before. We did reach the Holiday Inn at Everett safely, which was the con-hotel of Aki-con 2009.
As we arrived on Thursday (Nov 5) afternoon, there was not much to do but wander around. The staff and volunteers were hard at work setting up the halls and decorations for the convention. I ran into one of the staff and he told me that they were apparently missing a bunch of volunteers that were supposed to come… but did not show up. Logically, if you signed up to help out at an event you would most likely be held liable to uphold your end of the bargain to carry out the tasks assigned to you. Now I don't know if this was an act of miscommunication or people were just running late. But I do hold great respect to those that were working hard on Thurs, setting up everything for fellow con-attendees. The sets turned out lovely and everything looked really cool and spiffy!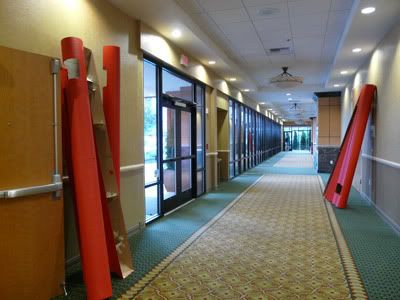 The set-up.
There was a mini pre-reg line on Thurs night when we got there and went to pick up our badges. They even had helpful signs to remind attendees of conducting proper etiquette such as this one when one goes into the Manga Kissaten (aka Manga Library).
Artist Alley / Dealers Hall
I guess the only complaint that I have and from what I have heard from other dealers, artists, attendees was the location of the Artist Alley and Dealers Hall. They were both located in the underground parking lot of the Holiday Inn hotel. Being so, there were limited amount of lights. Not all of the tables nor vendors had decent amount of lights and most had to operate in low lighting. However, there were some that were fortunate enough to be placed under good lighting so not the entire layout was a complete flop.
Later, I did hear from a vendor that one of the emails sent to them had a brief suggestion saying to "bring lights". However, it was not stressed that lights should be brought due to low lighting in the parking lot. So perhaps next time if the Dealers Hall and Artist Alley had to be placed in the parking lot again, bringing lights should be stressed as a necessity?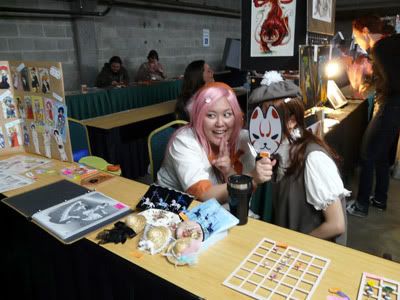 The entrance to Dealers Hall, and a shot of the table I shared with a friend.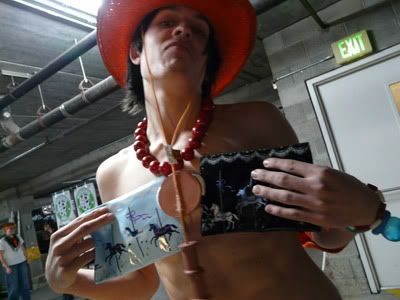 A friend passed by to help promote our merchandise. XD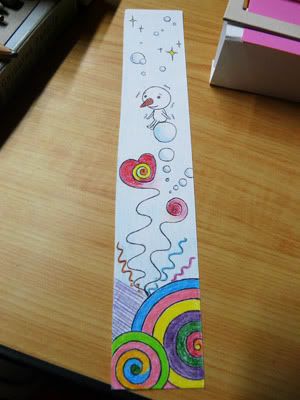 This year besides being a Press Member, I decided to try out selling things at Artist Alley as well. I did not have much wares by myself to sell so I shared a table with 2 other friends. As I sat at my table selling my wares, I started this piece from scratch and finished it before the weekend was over. (haha)
Also, I know my sense of colour is REALLY off…
Main Stage Performances + Musical Guests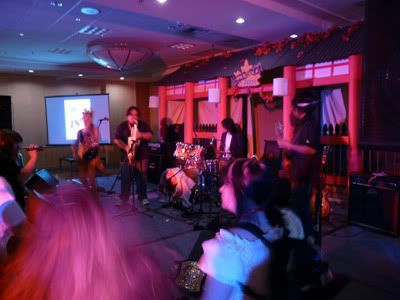 On Friday night, I joined a few of my friends and went to check out a performance at the main stage. There were no seats for this performance, and everyone was up and dancing near the stage where the band was playing.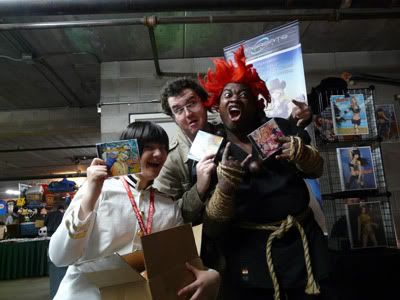 Rai Kamishiro is one of the guest artist that had a musical performance on the Sunday of the convention. I was quite looking to watch her perform live. However, due to the return traffic I had to leave early with my friends to return back to my side of the border on our continent. I was quite disappointed by the time her concert was scheduled at so I hope next time I will be able to see her perform live!
Food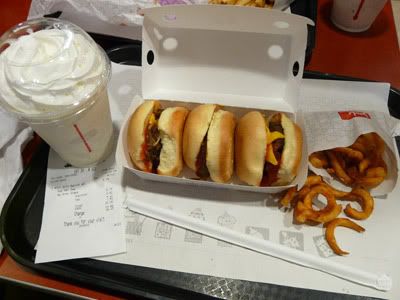 Jack in the Box… I really wish we had this in Canada. The Triple Mini-Burger were the cutest things ever and they were the size of my fists (which are tiny). Not only that, they were pretty tasty. And speaking of tasty, you can't NOT mention the milkshake. I am VERY looking forward to the next time I can visit a Jack in the Box, as that milkshake is unforgettable. Seriously. It is so thick you can't even sip it through the straw. It is *that* amazing.
Aside from Jack in the Box, which me and my friends drove to get. There was a Denny's literally across the street of the convention. There was also a Chinese restaurant as well, but I always make it a point to NEVER eat at Asian restaurants if they're not in Asia, or Vancouver. No offense, but I just can't trust their taste.
Weather
The entire weekend outside of the hotel was very windy and rainy, very typical of the weather in fall/winter of the local area here. The thing I was surprised with more was the wind that weekend. It seemed like we had a bit of a wind storm and it was especially strong that weekend. Everyone that went outside had to be careful of the wind. No one was safe from getting their hair and clothes messed up! You had to pull your coat tightly close to you. I remember I was nearly blew away at one point, but luckily my friends were walking with me then…
Afterword
All in all, it was a very enjoyable convention and weekend. Akicon is a small convention, but it's just starting out. It's got a long way to go. But as a small con, it's got its own perks. You're able to locate friends easier without having to walk a mile just to realize "hey, your friend just relocated! …Awww, well, shucks!" and keep walking until you eventually find the fellow.
Not much more to say except I look forward to next year's Akicon! Oh, and one more thing: weddings and anime conventions at a hotel don't really work…
Share with your friends!